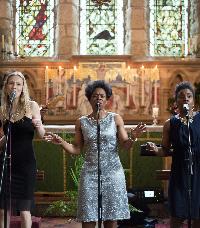 All you need is love
Q. We want to surprise our guests with a variety of music, what can you suggest?
A. Ley Adewole says: Gospel music is always uplifting, inspirational and makes a special occasion extraordinary. There's such an incredible choice of songs that are suitable for religious or civil ceremonies, many of which are from popular films such as Oh Happy Day from Sister Act, Say A Little Prayer from My Best Friend's Wedding, All You Need Is Love from Love Actually and other popular tracks like Your Love Keeps Lifting Me Higher and This Little Light Of Mine, to name just a few.

As we all saw at the recent wedding of Harry to Meghan, Duke and Duchess of Sussex, one of the highlights was the gospel choir. With such iconic, heartfelt songs sung in powerful voices and harmonies, wedding guests were really moved. We always encourage everyone to join in when we perform so that they really feel a part of it. This creates a truly joyous atmosphere like it should be.
Ley Adewole
www.thegracenotesuk.com