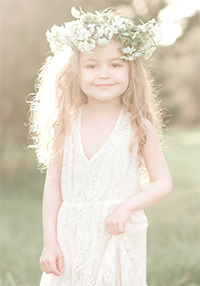 Fun for the little ones
Q. We're both getting married for the second time and have children who will be attending our wedding so we need some advice about safe and reliable childcare.
A. Hannah Lovell says: A mobile crèche is a great way of taking care of children at weddings. They often care for three to 30 children at any one time and my company, Hannah's Busy Bees Childcare, looks after babies from 6 months to children of up to 12 years old. The crèche provides toys and equipment for them to play and learn with.

A crèche is run at the chosen venue of the couple and this can be either at their wedding venue itself or at the place where the couple are staying. As long as it provides enough space to accommodate the number of children attending then we are able to carry out this service at either. I will visit the chosen venue before the wedding takes place to check that it's safe and complete a risk assessment.

We will run the crèche however the couple request. We are there to give the children a fun time so we set up the equipment provided and have different stations with different areas, for example a toy shop and car garage. We also offer small snacks and drinks with the parent's consent. If there's an outdoor area we're allowed to use then we'll make good use of this too.
Hannah Lovell
www.hannahsbusybees.co.uk