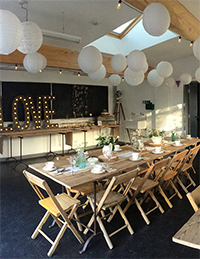 Weddings with a difference
Q. We love crafts and making things so we want to find a wedding venue in Devon that will suit our decorative pieces and quirky style. Can you recommend somewhere?
A. Francesca Anderson says: Cockington Court is so appealing not only for the magical setting and choice of two areas in which to say 'I do' but also because of its creative, crafty element. A wedding day will be made even more memorable with over 20 talented craft makers offering personalised, handmade wedding gifts, flower displays, favours, paper flower bouquets, cards, cakes and jewellery. There's a resident florist, jeweller, chocolatier plus a dressmaker and items can be pre-ordered to match any theme. They also work with local partners to provide additional services including a horse and carriage, wedding cars and a photographer.