Ask the experts
Here is a selection of Q&As from Your Devon and Cornwall Wedding magazine. If you would like your question answered by our experts, please email it to editor@yourdevoncornwall.wedding.
To view more Q&A's on a different topic, please select one from the list below.
Hot topic: Ask the experts
Ask our regional experts
---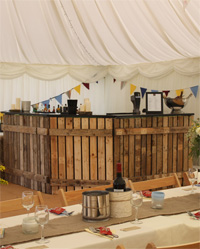 Cheers!
Q. We're having our wedding in a tipi and want to create a separate bar area including a feature gin bar, a cocktail bar and a keg pump all decorated to suit our festival theme. How can we achieve this?
A. Nick Jarvis says: Firstly, contact a mobile bar company with a description of what you want. They will use this to build a custom quote for you. A good bar company will be able to offer you all the above options, list your favourite drinks on the menu, and let you decorate the bar however you like.

Here at Bars with Legs we've set up bars in tipis and all sorts of interesting structures. The tipi atmosphere is magical – perfect for a day to remember. You're right to consider an individual bar area including a feature gin or cocktail one but do keep this in the main party area if you can, especially if you have fewer than 150 guests, because it really helps to maintain the party atmosphere. Do take into consideration that the biggest challenge you will have with a tipi is space – the sloping sides can make it a tight squeeze to get all your tables, guests, band, DJ and dancefloor in, as well as the bar. Having two bars with a feature one outside can be a great way to overcome this. It's also worth talking to your bar company because it may well be that they can be flexible. For example, our bars come in five-foot lengths and can be configured in lots of different arrangements to suit a wide variety of spaces. We can also make suggestions about how to rearrange your floor plan after you've eaten to make the most of the space available. Another popular choice is to vary your drink options across the day, for example a cocktail bar on the lawn during the afternoon with a self-service keg of your favourite beer, followed by a range of gins available at the full mobile bar in the evening.
---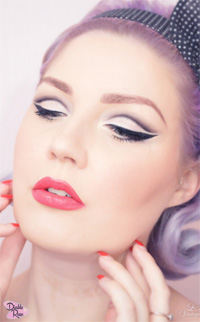 Hollywood-inspired
Q. I'd love to create a movie star look with my wedding make-up but don't know where to start. Can you help?
A. Diablo Rose says: Marilyn Monroe is said to have used up to five different shades of lipstick at once to create her famous full pout. She would design her lip shape from scratch to accentuate and exaggerate her natural one. With her beauty tips in mind, we've come up with a few pointers for you to create a full, luscious pout.

- Firstly, line the top and bottom lip with a darker, deep red shade, such as our Le Keux Cosmetics Cherry Bomb Lip Paint, to create a defined shape. Extend the line a little on the edges of the top lip and paint to a point in order to create a fuller arch and definition between the two.

- Next, fill in the lips completely with a bright red colour. You can alternate layers of lipstick and gloss to create full glossy lips. We recommend Le Keux Cosmetics Whistle Bait Lip Paint because it's wonderfully glossy.

- Finally, apply a subtle light shade to the centre of your lips to highlight your pout. You could use a light lipstick such as Le Keux Cosmetics Peachy Keen Lip Paint or even a little dash of white powder. Finish by adding several more layers of red lipstick and gloss to make lips look plump.

Eyes are such a focal point of the face, too, and the 1960s look makes a great alternative to the '50s one. Re-create this with the traditional 1950s eyeliner flick with a few tweaks:

- Firstly, apply white eyeshadow across your entire lid up to the brow bone. Then draw a strong line using black eyeliner close to your top and bottom lash line, forming a thin point on each. We recommend Le Keux Cosmetics Black Cadillac Eye Liner Paint.

- Then, using Le Keux Cosmetics Dual End Brush, draw another strong black line, following the natural shape of the eye socket, bringing it out to a gentle flick upwards to flatter the eye.

- Finally, the 1960s eye make-up is all about big bold eyelashes so feel free to have some fun with them! We recommend using a half width set of lashes on the bottom lash line to add some more drama.

It's worth noting that this look can take a little practise to get the top line right so my advice is to try a few times and rest your arm on a flat surface whilst drawing to keep a nice steady line.

Another option is to create the femme fatale eye. This look is super easy to achieve. Paint a slick of Black Cadillac Eye Liner Paint all around the upper and lower lash lines and before the liner dries, use the larger end of our Dual End Shadow Brush to smudge it into a smoky shadow effect. The best technique for this is to smudge it in an upward direction from the lash line, taking the smokiness no higher than the eye socket. For more definition you can add a flick of eyeliner on the top lash line, too.
---
Contact our experts...
Diablo Rose
Le Keux Vintage Salon
Nick Jarvis
Bars With Legs
---