Ask the experts
Here is a selection of Q&As from Your Devon and Cornwall Wedding magazine. If you would like your question answered by our experts, please email it to editor@yourdevoncornwall.wedding.
To view more Q&A's on a different topic, please select one from the list below.
Hot topic: Wedding jewellery
Local experts offer advice on choosing the best jewellery for your big day
---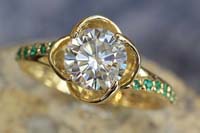 #trending
Q. What ring styles and diamond shapes are trending right now?
A. Elaine Foreman says: We're seeing a small increase in demand for oval-shaped diamonds and this is something we'll be providing shortly. Trilogies are also popular because the three stones together always look really substantial. We also get enquiries for special, unique pieces so we recently created this 18k fair trade gold ring set with a 1.5ct IQ Diamond surrounded by eco-friendly emeralds on each shoulder. In terms of styles, the vintage look is always extremely popular.
---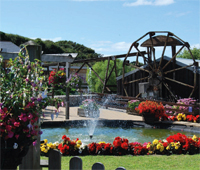 Local love
Q. We've lived in Cornwall all our lives and want our wedding bands to reflect this, supporting the local area while being unique to us. Can you offer us any ideas?
A. Steve Ackland says: Why not have your big-day rings made from precious metal directly from the Tolgus Tin Mill, which has been regenerated to once again extract tin from the local land? You can't get more Cornish than that! These pieces are combined with silver or 9ct and 18ct gold to create individual designs. The evolution of this has resulted in our new Tolgus Bridal Collection of lovingly hand crafted designs to signify the start of your married life together. You can specify what you want and everything is processed on our site in the heart of Cornwall.
---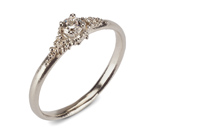 A personal touch
Q. My hubby-to-be proposed with a sweetie Haribo ring! He knows I'm very particular when it comes to jewellery so wanted me to pick something I'll enjoy wearing forever. Can you suggest where I could visit to make my own ring?
A. Victoria Sewart says: Making your own jewellery is a request I hear often from couples and is such an exciting thing to do together ahead of your wedding. Creating those pieces that are relevant only to your marriage is so very special and is now easier to achieve with our workshop classes. You don't need any prior experience, simply pop along to one of the Saturday tuitions and enjoy creating your dream piece that you'll enjoy wearing for a lifetime.

Alternatively, our gallery showcases pieces from some of the most talented British designers and only one or a few pieces of each design are made. You can work with these designers to commission something unique to you, whether it be by tweaking an existing design, changing the metal or the stone or starting from scratch on a special bespoke piece.
---
Contact our experts...

Elaine Foreman
Jeweller

Steve Ackland
Marketing manager

Victoria Sewart
Jewellery designer
---