Ask the experts
Here is a selection of Q&As from Your Devon and Cornwall Wedding magazine. If you would like your question answered by our experts, please email it to editor@yourdevoncornwall.wedding.
To view more Q&A's on a different topic, please select one from the list below.
Hot topic: Food, glorious food
Local experts on big-day catering
---
Sweet tooth
Q. I love the idea of having a sweetie cart at my wedding because they look great in photographs, but all of my recently married friends have had them. Can you advise me on anything that little bit different?
A. Claire Potts says: How about a dessert table? These are a more grown up alternative to the sweet carts and can still incorporate candy, allowing your guests to pick and mix! Mini macarons, chocolate eclairs, tartlets, brownies, bakewell tarts and even doughnuts are all very fashionable now, and these can sit alongside your jars of bon bons and flying saucers.

An idea is to have a main wedding cake as the focal point in the centre of the table and pick colours and styles of miniature desserts to complement the look. The best thing about these tables is that you can mix and match different things, even sweet and savoury. Why not add a tower of cheese, with crackers and chutney?
---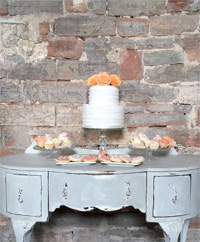 Cake expectations
Q. My fiancé and I have a sweet tooth and want something quirky and alternative to the traditional tiered wedding cake. What can you suggest?
A. Claire Arscott says: There are so many ideas now when it comes to choosing a wedding cake that it's easy to become a bit baffled by them! The trick is not only what you have but how you display it that will make it different to the traditional ones you see at many weddings. One idea is to choose a design you like and have different sized, identical single tiers placed on vintage and mirrored cake stands stood together to create a wow-factor centrepiece. You could always have these iced in different colours to represent their flavours, such as chocolate (brown), sponge (cream) and so on. Another idea is to have cupcakes and cookies iced to match your cake and dispayed to tie in with your theme, such as on a distressed French dressing table for a vintage-inspired wedding or a log slice for a rustic-theme.
---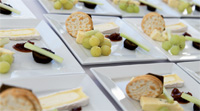 Comfort food
Q. We 're looking for on-trend options for our wedding catering. What can you suggest?
A. Peter Mundy says: There are so many new and creative ideas for the wedding breakfast now. Gone are the days of sitting formally at a table where all your guests are served identical meals with one vegetarian option. I'm seeing a trend for bowl food, which allows your guests to mix and mingle while we serve them delicious dishes of substantial food following the canapés. We usually offer a variety of dishes they can mix and match. Another trend is for sharing platters to be presented on the tables. This is a great way to get people chatting over a variety of choices.

In the past two years, people have become so much more educated about their food choices and dietary requirements. We now offer gluten free options as well as catering for nut and seafood allergies. We try to only serve fresh produce sourced locally to support the community as there are so many wonderful meats, vegetables and fruits grown in Devon and Cornwall. Another fun idea that always goes down a treat when serving meat dishes is for one guest to be the designated carver at the table. We pop a hat and apron on them for a fun photo opportunity and they get to serve each guest, this really breaks the ice!
---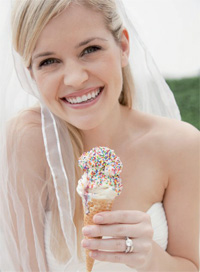 Ice ice baby
Q. We want our wedding catering to complement our venue styling. Any ideas?
A. Matt Ruse says: An ice cream trike will make a great prop at your wedding! They're quirky, a little bit different and always become a big talking point among guests. An original, 1930s Pashley Tricycle will fit in particularly well with a retro, vintage vibe in a marquee or out in a farmer's field, which is a very popular trend at the moment. Trikes can be decorated with hessian or printed bunting, helium-filled balloons and large bows in various colours to blend in with your day. The baskets attached to the back of a trike can have a blackboard displayed on them with your names, the different choices of flavoured ice creams available or another personalised message of your choice.

A trike will not only add to your styling but is also a fab prop for photos. It also fulfills any sweet cravings in the afternoon between the wedding breakfast and evening party. Plus it makes a great alternative for dessert at your reception. They're ideal at any time of the year because they are operated using a main electricity supply.
---
Contact our experts...

Claire Arscott
Claire Makes Cakes

Claire Potts
Sweet Temptations

Matt Ruse
Cornish Ice Trikes

Peter Mundy
Peter Mundy Catering Services
---