Ask the experts
Here is a selection of Q&As from Your Devon and Cornwall Wedding magazine. If you would like your question answered by our experts, please email it to editor@yourdevoncornwall.wedding.
To view more Q&A's on a different topic, please select one from the list below.
Hot topic: Wedding worries
Ask our regional experts
---
Al fresco weddings
Q. We want to get married outside and are planning a late summer wedding but are a bit concerned about the unpredictable British weather! Can you advise us?
A. Kathy Murdoch says: Al fresco weddings are becoming more and more popular as they provide a wonderful atmosphere and the potential for stunning big-day photographs. However, when choosing an outdoor venue in Devon or Cornwall, always make sure that it has an excellent back-up plan should the weather not be as you'd like. It's important to consider your guests' comfort by ensuring there are sufficient facilities to keep them warm and dry. Ask your venue to talk you through the various options that it offers and check the time that a final decision of where to host the ceremony needs to be made by. This will indicate how much time you have to track the weather forecast. It's also good to plan styling elements that can quickly and easily be moved from outside to the indoor contingency space just incase you need to. At Ocean Kave, we host our weddings in a beautiful rustic gazebo and the couple has up until midday on the morning of their wedding to make a decision about where to host their ceremony. If we need to move it inside the Kave then it's easy and simple for us to do so and because the Kave is so beautiful, it's never regarded as the second best option.
---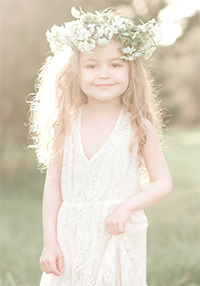 Fun for the little ones
Q. We're both getting married for the second time and have children who will be attending our wedding so we need some advice about safe and reliable childcare.
A. Hannah Lovell says: A mobile crèche is a great way of taking care of children at weddings. They often care for three to 30 children at any one time and my company, Hannah's Busy Bees Childcare, looks after babies from 6 months to children of up to 12 years old. The crèche provides toys and equipment for them to play and learn with.

A crèche is run at the chosen venue of the couple and this can be either at their wedding venue itself or at the place where the couple are staying. As long as it provides enough space to accommodate the number of children attending then we are able to carry out this service at either. I will visit the chosen venue before the wedding takes place to check that it's safe and complete a risk assessment.

We will run the crèche however the couple request. We are there to give the children a fun time so we set up the equipment provided and have different stations with different areas, for example a toy shop and car garage. We also offer small snacks and drinks with the parent's consent. If there's an outdoor area we're allowed to use then we'll make good use of this too.
---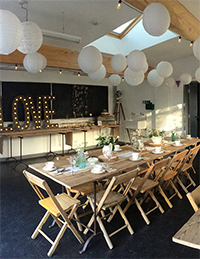 Weddings with a difference
Q. We love crafts and making things so we want to find a wedding venue in Devon that will suit our decorative pieces and quirky style. Can you recommend somewhere?
A. Francesca Anderson says: Cockington Court is so appealing not only for the magical setting and choice of two areas in which to say 'I do' but also because of its creative, crafty element. A wedding day will be made even more memorable with over 20 talented craft makers offering personalised, handmade wedding gifts, flower displays, favours, paper flower bouquets, cards, cakes and jewellery. There's a resident florist, jeweller, chocolatier plus a dressmaker and items can be pre-ordered to match any theme. They also work with local partners to provide additional services including a horse and carriage, wedding cars and a photographer.
---
Contact our experts...
Francesca Anderson
Wedding coordinator
Hannah Lovell
Hannah's Busy Bees Childcare
---