Ask the experts
Here is a selection of Q&As from Your Devon and Cornwall Wedding magazine. If you would like your question answered by our experts, please email it to editor@yourdevoncornwall.wedding.
To view more Q&A's on a different topic, please select one from the list below.
Hot topic: The perfect venue
Our regional experts talk venues
---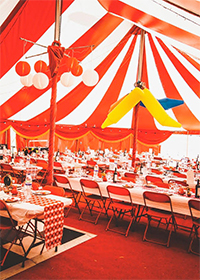 Roll up, roll up
Q. We're interested in hiring a striped Big Top tent for our wedding because we're planning a circus theme. We don't know where to start! Can you help?
A. Tim and Bill Verwey says: If you're having a circus-themed wedding, a striped Big Top tent is the perfect choice! Many of our clients think that these only come in large sizes for music festivals but in fact, there are many marquee companies across the UK that offer these structures in smaller sizes for weddings. Searching Google for a specific marquee is like looking for a needle in a hay stack – there are over 2000 registered marquee companies in the UK so where do you even begin your search with so many to choose from? What makes it more frustrating is that once you've found companies you feel would be a good fit, it's often impossible to find out what size you need, exactly what it looks like at this size and how much it will cost. Here at marqueebookings. co.uk we offer a free online platform where couples can search for marquees using their event details. In seconds, they can compare quotes from local companies and find out exactly how much each one will cost, what it looks like in the chosen size, the marquee type and how big it needs to be to fit all the guests in. When they find the Big Top that they love, they simply click 'make enquiry' and the quote will be automatically saved and emailed to them. Everyone who makes an enquiry on our website benefits from direct contact with the team behind marqueebookings. co.uk and can take advantage of our expert advice and request customised floorplans, marquee hire guides and face-to-face meetings if they so wish.

With one point of contact and an easy-to-use platform, couples can successfully book a marquee with confidence knowing that they have compared all the options and have chosen the right structure at a price that suits their budget.
---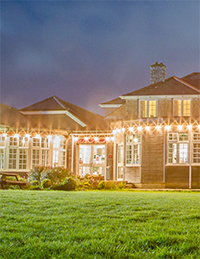 Venue checklist
Q. We're newly engaged and need a guide on what to know and ask when it comes to booking a venue. Can you help?
A. Cyril Eustice says: When planning a wedding there are so many things to consider. It's the most important day of your life so you can't ask too many questions or do too much research. Here at Rosewarne Manor, we have compiled this checklist that we hope you will find helpful.

The date
Is the date that you want available? If not, does the venue have alternatives that suit you? Enquire whether midweek or out of season dates qualify for a discount. Beware of venues that rush you into a quick decision by telling you that you will lose the date or that they're about to increase prices. These are ploys to stop you looking at other venues. Ask yourself why they do not want you to look at other places if they really are the best choice for you and don't rush into a hasty decision because you might regret it later.

The venue
Is the venue the right size for the wedding plans that you're making? Something too big can be as much of a problem as one that's small.

Ask whether your wedding will be the only function that they're holding on that day, this is extremely important so that you don't bump into another bride in the corridor or guests having to share the bar with those from another wedding party. Enquire whether they'll be open to other customers, diners and guests on the date of your wedding and if so, do they secure an area of the bar or restaurant just for your gathering?

Does the style and ambience suit you and your wedding theme? Will your guests feel happy and relaxed there? Is there plenty of free car parking, a good taxi service and do they have accessibility and facilities for older and disabled loved ones if needed?

Do they provide recommendations of other services and help to liaise with them? Is there a charge for this or do they get commission for recommending particular suppliers who might not actually be the right choice for you? If they have a wedding planner, do they charge for their services and if so, how much?

Finally, check them out on Trip Advisor and Facebook and also enquire what awards (if any) they have won.

The catering
This is really important because it's probably the biggest cost of the day. Do they offer a set menu or will this be tailored to your needs? Will guests have a choice? Here at Rosewarne Manor we provide four choices in each course. Are allergies and dietary requests catered for? Check whether the function food is of the same standard as their restaurant meals because some venues simplify things for themselves when catering for functions (disappointing wedding parties). Will your food be prepared on the premises by trained chefs or is it brought in already prepared – this is common practice for starters, desserts and bread. If brought in, this should be reflected in the price because it's lower labour costs for the venue. You need to be happy that the meal will be as special as you need it to be.

Finally, feel free to ask to see the kitchen to check that you're happy with the cleanliness and check out the Food Standards Agency rating where the premises should have a minimum score of three: www.ratings.food.gov.uk/authority-search/cornwall

Timing of your event
Check whether you'll have to vacate the room at certain times throughout the day while it's being rearranged, for example after a civil ceremony. If so, what other areas will you and your guests be directed to? Is there a set time that your wedding needs to finish by and what timings are best for the different aspects of your day like the ceremony, meal and entertainment?

The venue staff
Are they friendly and welcoming? Do they make you feel comfortable and give you the time that you deserve? Do they have a 'can do' attitude and are they passionate about what they do?

The price
You will, just like everyone else, have a budget to stick to so can you afford the venue and will you be getting value for money? Is the price fully inclusive? If not, what extras do they charge for?

Have you considered the cost of bar drinks? This will be a major factor for your guests and bar prices at venues can vary enormously.

Check whether gratuities are included or do you need to remember this on the day? If they are included, are they discretionary?

How much deposit is payable and when? If it's more than 20 per cent at the outset then enquire why. Remember that if you pay by credit card you will receive payment protection.

The booking contract
What are the terms and conditions? The unexpected can happen so what are the cancellation costs? Is there a charge if you need to reschedule the date of the wedding and do cancellation costs include charging you for any lost bar takings? (No one books an event thinking that they will need to cancel it but unexpected things do happen and a cancelled booking can be very expensive).

Are you allowed to make changes to your guest numbers, menu or other items and if so, how far in advance? Will you incur admin charges or penalties and is there a minimum charge or minimum number of guests?

Insurance
Are you taking out an insurance policy to protect yourselves from the unexpected? These are not expensive so we strongly recommend you take out one from a reputable provider and we can guide you on how to do so – we will even pay part of the cost!
---
Contact our experts...
Tim and Bill Verwey
Owners
---