Ask the experts
Here is a selection of Q&As from Your Devon and Cornwall Wedding magazine. If you would like your question answered by our experts, please email it to editor@yourdevoncornwall.wedding.
To view more Q&A's on a different topic, please select one from the list below.
Hot topic: Expert advice
Ask our regional experts.
---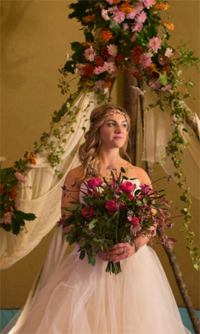 A day to remember
Q. We're planning a wedding for next autumn and want vibrant colours and props that stand out in photographs. Can you help?
A. Laura Farmer says: Firstly, it's all about the location. An inside venue often doesn't scream 'autumn' so look for something quirky and different, like an outdoor one with areas that capture natural daylight which is vital for photographs. A wedding in a tipi can offer all of these things and will really impress your guests.

Secondly, set the scene. Create a moodboard to show the colours, styles and types of wedding images that you want to achieve and send it to your photographer. They should help create the atmosphere that you want by adding in their twist of creativity. For an autumnal wedding, choose a theme to reflect it and include pops of colour. Rich deep colours including red, purple and burnt orange work well with green, like our recent styled photo shoot shows. Toffee apples, marshmallows toasted on fire pits and sparklers add the wow factor to a bonfire celebration. You may also want to incorporate the woodland for a wedding at this time of year using foliage, branches, logs, pumpkins, autumnal fruits, candles, atmospheric lighting, brass, wood and paper lanterns hung from branches. Ribbons and lace help create romantic backdrops both inside and out. Tipis really are a blank canvas so you can create an imaginative day that doesn't have to cost a fortune!

Next, give your ceremony a creative edge. When choosing a tipi, not everything has to be held outdoors. Your ceremony can be indoors depending on the weather followed by the reception under the canvas structure.

On that note, you can of course make your reception entertainment quirky by using fun outdoor props plus games and a photo booth. The Little Red Bus is available for hire as a photo booth and really does keep guests amused all evening. Music for all generations is also essential. Provide seating or a chill-out area for guests to enable them to talk to one another and relax.

Finally, by having a wedding in a tipi structure, think about how you and your guests can continue the party after. Glamping is a great way to have all of your loved ones stay over and share the next morning with you, with cute bell tents and caravans making a great additional backdrop to your wedding photographs.
---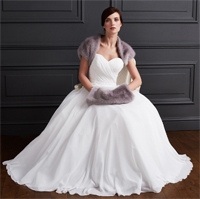 Bespoke bride
Q. I want to wear something special at our wedding that I can keep and wear again. What do you suggest?
A. Helen Moore says: At Helen Moore we understand that the thought of purchasing and wearing a beautiful one-off piece for just one day is a little disheartening, especially if you've gone to the trouble of having something made especially for you. There are some very pretty shorter-length dresses that could be worn again at a party but what if you're having a longer gown? The solution is a faux fur accessory that you can wear again.

To cover your shoulders and arms, wear a bespoke faux fur jacket, a glamorous cape or even a simple stole. They are so adaptable being easy to remove at various times of the day and warm and cosy for any chilly moments outside posing for your photographs.

The added joy of investing in one of these items is that they can be worn for years to come. A faux fur cape never looks out of place at a glamorous event and a faux fur jacket is one of the most versatile items, looking elegant on special occasions and equally stylish worn casually with jeans. Stoles and wraps are another beautiful alternative and are loved by bridesmaids.

At Helen Moore we offer a bespoke service for brides and bridesmaids. We have a wide range of styles and love to discuss the different options. Within our service we aim to offer something to suit every budget, from bespoke items to off-the-peg pieces.
---
Bake off
Q. I love baking so want a showstopping wedding cake. How can I pick one that suits our venue as well as our big-day theme?
A. Richard Blewett says: A wedding cake is of huge importance to the day so the trick is choosing the right designer who will create something to suit your choice of big-day venue, theme and colour palette.

Think about your chosen venue and gather as much background information including the history surrounding it. After hosting more than 40 wedding ceremonies and accommodating over 6000 guests at Pengenna Manor, I was inspired to commission luxury Cornish cake designer Peboryon to create a show-stopping piece inspired by our 800-year-old, Grade II listed house and its acres of grounds. I asked Dr Andrew Ormerod, an expert botanist who worked at The Eden Project, to research and forage authentic heritage fruits for the cake to represent the wedding venue. He gathered them from orchards at the Tregothnan Estate near Truro because it's the same age as Pengenna Manor. Peboryon delivered a five-tier cake with pearl beading, sugar painting, intricate icing, and the use of colour to best depict our venue. Maybe the tiers of your cake will reflect the venue with a hand-painted illustration? Or maybe they will be decorated with iced sugar flowers to portray the grounds and gardens? You could opt for a cake topper that's personal to you both as a couple and keep the rest of the design plain and elegant. For us, Peboryon designed a top section finished with a sugar sculpture of a tree that was inspired by a 500-year-old plaster mould within the manor house. They used edible oil paint to draw a portrait of the exterior of the venue on the middle tier with the bottom tier decorated with miniature cake fruits like those sourced by the botanist.

Finally, think about the flavours that you and your guests will enjoy. The design by Peboryon had three tiers baked with flavours of apple and blackberry, apple and calvados and spiced plum as found in the orchards. The lower tiers were decorated in chocolate and fondant and the miniature cake fruits were filled with surprise centres. As Christine Jensen, Creative Director of Peboryon explains, the flavours can be as distinctively personal as the design.
---
Contact our experts...
Helen Moore
Luxury faux fur designer
Laura Farmer
Photographer
Richard Blewett
Proprietor
---