Ask the experts
Here is a selection of Q&As from Your Devon and Cornwall Wedding magazine. If you would like your question answered by our experts, please email it to editor@yourdevoncornwall.wedding.
To view more Q&A's on a different topic, please select one from the list below.
Hot topic: Dresses, marquees and transport
Our regional experts talk wedding dresses, marquees and transport
---
Dress up
Q. I'm having a winter wedding and need to choose a dress that will take me from day to night. What can you suggest?
A. Dawn Collins says: Winter weddings are incredibly romantic with crisp weather, venues featuring cosy fireplaces and log burners, and intimate dinners by candlelight. For brides wanting to wow in their dress, they should embrace luxurious fabrics and embellishments at this time of the year that will look great day or night. Layered matt sequins, pearl details and beaded lace are all hot trends for 2019 and 2020 and at Lovely Bridal, we're loving Theia Couture's amazing geometric pearl gown. For added shimmer, brides can change the look of their dress over the course of the day by adding different styling pieces like the sequin over skirts and beaded jackets from designer Charlie Brear.

Whether the chosen wedding dress has long sleeves or no sleeves, brides getting married during winter can add a cosy cover up. This may be worn for most of the day, especially if photographs are taken outdoors, so it shouldn't be an after thought. Investing in a cashmere jumper, a slouchy cardigan from Rembo Styling, or even a stunning white leather jacket to look stylish whilst staying warm is a good idea. It can always be worn again with jeans after the wedding so it's worth splashing out on.
---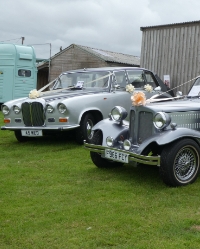 Arrive in style
Q. We're having a Christmas wedding and want to hire a beautiful vintage wedding car - what can you suggest?
A. Linda Stephens says: To make your journey comfortable and exciting, we offer the choice of two beautiful silver grey chauffeur-driven cars that you could choose for your winter wedding transport that will look beautiful at a Christmas wedding.

The Beauford Convertible is a 1930s vintage replica that's stylish and graceful, comfortably seating two people in the back and having the option of a passenger seated in the front.

The 1984 Daimler DS420 Limousine is elegant and spacious and able to seat up to seven members of the bridal party.

We deliver a professional, friendly and reliable service and take pride and joy in what we do with our chauffeurs always dressed in full uniform. Our vehicles are maintained to a high standard and can be styled with silk flowers, cushions, and a choice of coloured ribbons and bows to tie in with the theme of the wedding. We also offer a complimentary bottle of bubbly and champagne flutes.
---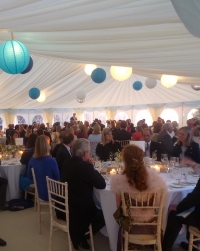 Magical marquees
Q. We're planning a Christmas-themed wedding in a marquee. Can you suggest ways in which we could decorate it?
A. Julia Pratt says: A Christmas-themed wedding in a marquee, hall or a barn is very exciting for both couples and us as a marquee hire company. We offer many options to decorate these wonderful structures that look magical at this time of the year, including twinkling LED lights draped from the ceiling or cascading down the walls. Up lighters containing coloured gels beam bright colours from the walls that can be static or moving and can even tie in with the music. Gold or ivory chandeliers suspended from the ceiling and controlled with dimmer switches can also look great at Christmas, as can masses of paper lanterns hung at different intervals in various colours to suit the theme of the day.

At Claremont Marquees, we have tables, chairs and sofas in a variety of styles and colours available for hire, plus powerful heaters designed to keep your guests feeling cosy during winter weddings. There's also a selection of carpets and table linens available in over twenty different colours plus crockery hire available.
---
Contact our experts...
Dawn Collins
Lovely Bridal
Julia Pratt
Claremont Marquees
Linda Stephens
West Cornwall Wedding Cars
---