Ask the experts
Here is a selection of Q&As from Your Devon and Cornwall Wedding magazine. If you would like your question answered by our experts, please email it to editor@yourdevoncornwall.wedding.
To view more Q&A's on a different topic, please select one from the list below.
Hot topic: Entertainment
Our regional experts talk W-day entertainment
---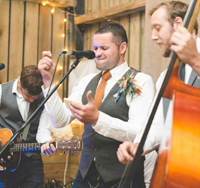 Let the fun commence
Q. We're getting married this autumn and need some ideas and inspiration for wedding entertainment. What's trending, new and slightly quirky that will surprise and wow our guests?
A. George Stahlmann says: When it comes to wedding entertainment, it's obviously down to the couple getting married to decide what to have and many brides and grooms like something to reflect their personalities. With that being said, there are a number of trends I've been noticing in the past year, with wedding bands featuring unusual instruments becoming hugely popular. Say goodbye to guitars and drums and hello to fiddles and cellos! These make for a really interesting, soulful sound and bands that I'd recommend in this category are the Royal T's and Tweed in Bourbon.

Another form of entertainment that many enjoy is strolling acts. These aren't just magicians or caricaturists – though they're excellent – but other fascinating skills including silhouette artists, who are able to cut the profile of any guest into a piece of card within a minute or two. It's amazing to witness and make for a superb memento of the day. Strolling acoustic bands have also been very popular. The band Wandering Hands is able to meet guests of all ages and have the added benefit of being able to play both indoors and outside, so if the weather is looking good, you can enjoy an al fresco celebration.
---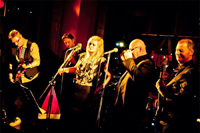 It's party time
Q. We're newly engaged and planning to have a band play live music at our wedding instead of a DJ. What advice can you give us about choosing one, how long do they usually play for, can we ask them for special requests and do you have any other tips?
A. Hannah Rowe says: The evening entertainment often gets overlooked when planning a wedding, but it's one of the most important and memorable events of the day. Do some research because with so many bands available of all different genres it's important to find one that will suit your musical tastes and your wedding party. Basher Tate pride themselves on having a mix of songs from present day tunes to golden oldies to fill the dancefloor and accommodate all ages.

Typically, we play two sets of about an hour each but are generally flexible on timings to suit each couple's needs. We're always happy to accommodate and usually play three shorter sets, or one big set, supplying background music in between, depending on the couple's wishes.

Special requests can be asked for in advance. It's common for us to learn and perform the newlyweds' first dance that generally then leads nicely into our first set. It's also not unheard of for us to learn two or three other songs for an event either. We just need plenty of notice so that we can master these requests.

Some tips for couples planning their wedding are firstly to attend some gigs. Most bands have audio clips of their music online if you can't get to a gig but nothing beats a live performance to check out your options and get a feel for the band, it's good fun and a great way to be sure you're choosing the right act.

Secondly, consider the space at your venue. You're simply not going to be able to fit a large band into a small room.

Next, consider the timings of the day. Ensure you have enough time available to allow a band to set up in time for your evening event. Basher will always arrive early to enable us to set up and be out of the way before your guests arrive.

Finally, expect to pay more for a band. A DJ is usually one person whereas with a band, you need to be aware that you're paying for several people to be working for long hours on a weekend, as well as the sound engineer, too. Having said that, don't be afraid to discuss your budget with us.
---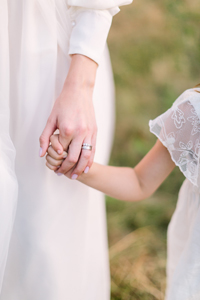 Child's play
Q. Because we're providing such great entertainment for our adult guests, we're considering inviting children to our day but allowing our friends and family to relax knowing they're in safe hands with a crèche service. Please can you advise us what to consider when hiring a mobile crèche.
A. Claire Ridley says: This sounds like a great idea – you want to give your guests the opportunity to have their little ones at the wedding during the day and then relax safe in the knowledge that they're being well cared for when the party starts!

Firstly, you have to reassure your guests that the mobile crèche provider can guarantee a safe, stimulating and fun environment for the children along with a high level of care. The most important thing is the happiness and wellbeing of the child so that the parents don't have to worry. It's advised to check any company out thoroughly before potentially booking them to make sure their staff are fully DBS checked, that they're insured for all areas of childcare, that any transport on offer (if required) is safe and secure with adequate child seats and also that training has been taken for food hygiene and nutritional health if meals are going to be provided.

Hannah's Busy Bees Childcare covers all of this and more. She is based in Barnstaple, North Devon, offering a mobile crèche around Mid Devon, North Cornwall, North Devon and other locations on request.
---
Contact our experts...
George Stahlmann
Wedding entertainment
---