Ask the experts
Here is a selection of Q&As from Your Devon and Cornwall Wedding magazine. If you would like your question answered by our experts, please email it to editor@yourdevoncornwall.wedding.
To view more Q&A's on a different topic, please select one from the list below.
Hot topic: Flowers, catering and photography
Local experts offer advice on W-day flowers, catering and photography
---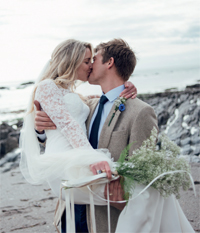 Picture perfect
Q. What things do I need to think about before booking a photographer?
A. Amber McCarthy says: Choosing your photographer is hard so here are a few questions I'd advise you to ask before making a booking:

- Can I see some images from a few recent weddings?
This is a must instead of just a few selected photos. This way, you can check their work to see how they photograph the entire wedding from the bride and groom getting ready to the ceremony, reception, and those all-important portrait shots.

- Can I meet you before the wedding?
You should always meet the photographer before your day because they might shoot amazing photos but could be very loud, bossy and completely take over your wedding. If you can't meet them then definitely speak on the phone or arrange to Skype or Facetime as this helps you get to know them to see whether you like their personality. I love getting to know my couples, it's so important to build a rapport with your photographer before the day itself.

- Can I send you some images via Pinterest or Instagram?
This is a must! If you don't send a photographer images you like, they won't know the style of photography you're expecting. Ask the photographer to capture your day your way! It's your wedding and you should have it documented however you want.

- What happens if it rains?
Unfortunately in the UK, this does tend to happen quite frequently, so make sure your photographer has a plan and has communicated this to you both so that you'll know what to do in the event of it. Most photographers carry a couple of very handy large umbrellas and modern cameras can withstand a lot of rain so it shouldn't stop you having stunning pictures. But if you don't fancy braving the rain your photographer should be flexible and they can take the group photos and bride and groom portraits later in the day when the rain has stopped, rather than inside the venue.

- How many photos do I receive as part of my photography package?
Make sure you determine this as well as whether they'll be in colour or black and white? As a guide, I always give 500-800 images in colour and black and white so you receive more than 1000 images in total.
---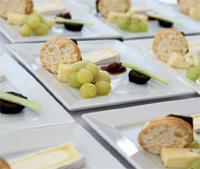 Comfort food
Q. I want to learn about some new trends in wedding catering so that we're not serving up the same old thing as others. What can you suggest?
A. Peter Mundy says: There are so many new and creative ways to serve the food at your wedding now, gone are the days of sitting formally at a table where all your guests are served the same meal with one vegetarian option. I'm seeing a trend for bowl food, which is where your guests are stood up and mingling and we serve them small bowls of substantial food following the canapés. We usually offer a variety of dishes so that they can mix and match. Another trend is for sharing platters presented on the tables. This is a great way to get people chatting to one another and the platters will serve a variety of choices.

In the past two years, people have become so much more educated about their food choices and dietary requirements. We now offer gluten-free options along with catering for allergies, such as nut and seafood. We try to only serve fresh produce sourced locally to support the community as there are so many wonderful meats, vegetables and fruits grown in Devon and Cornwall. Another fun idea that always goes down a treat when serving meat dishes is for one guest to be the designated carver at the table. We pop a hat and apron on them for a fun photo opportunity and they get to serve each guest – this really breaks the ice!.
---
Summer lovin'
Q. We are considering a tipi for our summer wedding. Please can you advise us on anything we need to know?
A. Donna Wright says: A great advantage of choosing our giant Nordic tipis for your wedding is how adaptable they are. Any number can be linked together, whether you are planning an intimate wedding with 50 guests or a huge celebration for 500. Not only can they be pitched wherever you choose, on family land or in a beautiful remote location, they can also be positioned to take in a special view, with the sides raised or lowered depending on the weather.

We can advise on the type of furniture, dancefloors, chill-out areas and recommended suppliers. If you don't have a venue in mind, we can help with that too.

In terms of limitations for tipi wedding sites, it's much the same as for traditional marquees. If you have a particular setting in mind it's important to consider the site's drainage and access for our tipis and crews. Our event coordinators will work with you to check all of these details, and we can carry out a free site visit if there is any doubt at all about the suitability of your preferred location.

Don't worry about the weather! The tipis will keep you dry and warm. Tipi weddings are beautiful in any season, with space heaters, open fires, oak doors and fairy lights designed to create a magical atmosphere while keeping the elements at bay.

Let your creativity run wild when styling your chosen tipi. They provide a wonderful blank canvas to work with, and if you would prefer to keep things simple, they demand very little in the way of decoration.
---
Fabulously floral
Q. Please can you advise me on flower types, colours and arrangements for my upcoming vintage-themed nuptials.
A. Debbie Eden says: Flowers for this style of wedding provide a vast array of options, from lime-green viburnum opulus, quicksand and pastel pink roses, soft apricot ranunculas, soft blue-green eucalyptus foliage and strongly scented cream and white narcissus, your imagination is the only limit! With such an array of flowers available, colour options aren't limited. A mixture of vibrant tones, pantone pastels and neutral ivory with the soft greens of succulents and woodland mosses are all options that would work dependant on the chosen colour schemes. Old gold or brass candelabra look fantastic when they're dressed with a floral display in soft muted colours, like ivory and pastel pink, because these shades work perfectly with the candlelight and brass tones. The increasingly popular trend for planted bell jars and terrariums look stunning when styled with a mixture of succulents and interspersed flowers to create a quirky, vintage centrepiece.
---
Contact our experts...

Amber McCarthy
Photographer

Debbie Eden
Floralities

Donna Wright
Owner of World Inspired Tents

Peter Mundy
Peter Mundy Catering Services
---