Ask the experts
Here is a selection of Q&As from Your Devon and Cornwall Wedding magazine. If you would like your question answered by our experts, please email it to editor@yourdevoncornwall.wedding.
To view more Q&A's on a different topic, please select one from the list below.
Hot topic: Keeping it vintage
Local experts offer advice on picking the best vintage pieces for your big day
---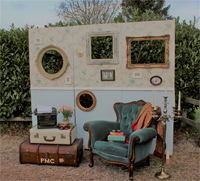 Prop it
Q. I'm having a vintage-themed wedding and want to wow my guests with some quirky and original ideas, what do you suggest?
A. Tracy Kensdale says: The term 'vintage wedding' does not necessarily mean afternoon tea party in style. With themes such as 'boho' and 'industrial' starting to play more of a part in vintage weddings, coupled with the Pantone colours and a mixture of contemporary items, the style of 'vintage' has never been so diverse. To add some quirkiness to your tables, why not consider mixing up the vintage theme with some fabulous gold gilded china, a touch of the industrial era with bell jars, and succulent centrepieces with moss in metallic planters? If you're after an elegant vintage look, why not consider having large antique gold candelabras stacked with vintage flowers and raw wax candles? For the venue dressing, why not try hanging light bulb vases, racks of test tubes with single stem flowers, garlands of festoon lights and bright lace or ribbon backdrops to form a focal point behind your top table?

If you're wanting to add a bit of wow to your wedding and keep your guests entertained, why not exchange the photo booth idea for a vintage photo wall, dressed with period props and original vintage dress items? For your guests to create that in-the-moment memento, why not also supply a Polaroid camera and maybe even an ornate frame for your guests to pin their picture on? And for guests with a sweet tooth, consider swapping the sweetie cart for a pop–up traditional sweet shop. With finishing touches, such as vintage weighing scales, this is guaranteed to get your guests reminiscing about their childhood.
---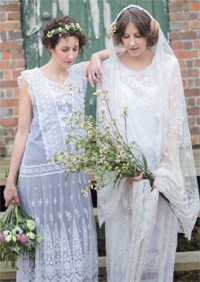 Best dressed
Q. I need some advice on buying a vintage wedding dress. Should I opt for a heirloom gown, or one that has been constructed to look like it's from a certain era? Are there any tips I should know before buying a vintage one and how should I care for it?
A. Linda Duriez says: I say look at both. The great thing right now is that vintage is out there, it's in vogue, it's all over the fashion press so the standard and choice has never been better. Now we have The National Vintage Wedding Fair showcasing people like me up and down the land and there's much treasure to be found. I also exhibit at many dedicated vintage wedding fairs in London, Bath, Bristol and the South West.

The condition of the dress you're looking at buying is vital. I hand wash every gown or dry clean them as appropriate, and check for any damage. Not all vintage pieces are wearable but lace, because of its natural fibres and meticulous craftsmanship, is immensely durable and falls beautifully. A vintage wedding dress offers the chance of being one of a kind, so no other bride wears the same.

Check that alterations can be made before purchasing a vintage gown. We stock a vast variety of lace collected over the decades which can be used to make something larger or longer and we also remodel dresses so for example, a low back can be achieved or a lower neck. It's lovely to have some history and I love the nostalgia of continuing on the story of the dress.

On a more practical note, people are often surprised that vintage gowns are so reasonably priced, I sell dresses from £50 to £2,000, the upper end being vintage-inspired by small, one-off designers. My main price point falls between £350 and £795 and my dateline is wearable vintage from 1900 to1959 with some exceptions for designer wear. If a bride doesn't want the entire look then we stock exquisite unique headwear made from old jewellery and also antique veils, plus new vintage-inspired accessories too. There's always a hoard of old jewellery that can transform a simple outfit.

Vintage wedding dress shopping is relaxed and fun! Brides say it's like dressing up in your best friend's bedroom. There's also the advantage that it doesn't take six months to order.

In terms of care, ask the shop if they'll clean the dress after the wedding or recommend a good cleaner. Keep it in acid-free tissue paper in a box or breathable dress bag with a bar of strong soap in good cloth wrapping that will not leave that horrid camphor smell.
---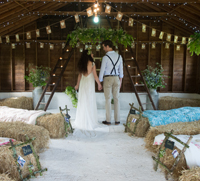 Down on the farm
Q. We're planning a laid-back, bohemian wedding and I would love some ideas of quirky venues in which we could host our day and suggestions on how to style it.
A. Sarah Weeks says: For a unique venue with a quirky bohemian and rustic feel, why not consider getting married on a farm? The Cow Shed, which is nestled in an acre of mature grounds at the beautiful Freathy Farmhouse in Millbrook, South East Cornwall, is the ideal choice. Tucked away on the Rame Penisula and accessed down a small lane flanked with wild flowers and cow parsley and with a small stream running through the garden to the converted Cow Shed, it exudes tranquillity and love.

For the ceremony, why not swap traditional church pews for straw bales decorated with cloth and flowers whilst the wooden beams are adorned with beautiful blooms, foliage and fairylights? The Milking Parlour, which comfortably holds up to 80 seated guests, is cosy and intimate and its large barn doors open out on to a patio area with further rustic seating and interesting up-cycled artefacts. The tables can be decorated with exquisite flower displays, candles and vintage crockery. The basket on a vintage bicycle can hold your flower petal confetti and don't forget to ask about creating your own 'family tree', literally treasured photos of your friends and family quirkily pegged to a line and wrapped around one of the beautiful old horse chestnut trees – a real talking point!
---
Contact our experts...

Linda Duriez
Days of Grace Vintage

Sarah Weeks
The Cow Shed

Tracy Kensdale
Keeping It Vintage
---