Ask the experts
Here is a selection of Q&As from Your Devon and Cornwall Wedding magazine. If you would like your question answered by our experts, please email it to editor@yourdevoncornwall.wedding.
To view more Q&A's on a different topic, please select one from the list below.
Hot topic: Bloomin' marvellous
Local experts offer advice on choosing the best seasonal blooms for your big day.
---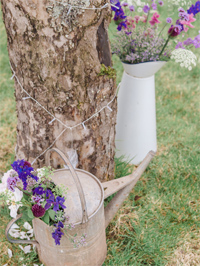 In the summertime
Q. What flowers and colours can you recommend for an outdoor summer wedding and how can we display them in a creative, quirky way?
A. Jenny Carter says: Summer is the best time to get really creative with locally grown flowers displayed in a variety of vessels. Mix vivid blue and purple blooms with pink, green and yellow buds. Old wooden crates filled with blue cornflowers and anchusa will look great stacked alongside vintage watering cans brimming with astrantia and white, sweet-smelling jasmine. Mix these with enamel jugs containing white, pink and blue larkspur plus old beer bottles and jars with single stems of pretty forget-me-nots. Don't forget to add textiles such as lace and hessian for that decorative finishing touch.
---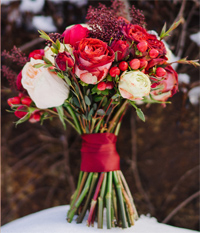 Winter wonderland
Q. Which flowers would you advise me to pick for my bouquet, bridesmaids' posies, corsages and buttonholes for a winter wedding?
A. Jen Simpson says: Mix winter-based foliage, including scented eucalyptus, with red and white seasonal flowers. Roses, hypericum and berries are great for adding rich colour, while decorative pine cones will add texture to your buttonholes and bouquet, adding that special seasonal touch. Make sure you tie everything together by coordinating your posies and corsages with your bouquet, but do bear in mind that during the Christmas season, the cost of most flowers rises so you might need to rework your budget.
---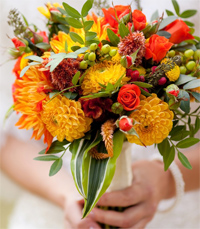 Autumnal glow
Q. What ceremony flowers, displays and colours would you recommend for an autumnal wedding?
A. Kate Bainbridge says: Here at Simply Flowers, we love creating a look for your wedding day starting with the ceremony arrangements. We advise our brides to firstly consider the setting and also the venue décor before deciding on their final blooms. Rich autumnal orange and pink work well against a blank canvas, for example, a venue with a neutral or muted backdrop. My all-time favourite look is classic white mixed with green which also works well at this time of the year, especially when finished with a hint of silver to add some subtle sparkle.

The wedding ceremony is such an important part of your day so depending on your budget, we suggest flowers for the register table, a feature such as a large archway to marry under, or stunning arrangements in a beautiful vessel like a rustic urn. Pew ends made from simple loose gatherings of flowers always enhance the aisle, as do scattered rose petals or pretty twigs tied to chair backs.
---
Contact our experts...

Jen Simpson
Florist

Jenny Carter
Florist

Kate Bainbridge
Florist
---