Ask the experts
Here is a selection of Q&As from Your Devon and Cornwall Wedding magazine. If you would like your question answered by our experts, please email it to editor@yourdevoncornwall.wedding.
To view more Q&A's on a different topic, please select one from the list below.
Hot topic: Venues
Our regional experts talk choosing and dressing your venue
---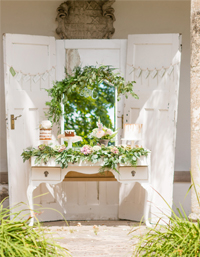 #trendingin2018
Q. We're planning our wedding for summer 2018 and would love to know what the trends are for all aspects of our day.
A. Elle Winsor Grime says: - Forget the flowers It's foliage all the way! Many brides are opting for a simple white and green colour scheme using lots of it, but some are skipping the flowers altogether and focusing just on the foliage.

- Stationery sets the theme Gone are the days when stationery was just an afterthought. It's now a focal point that sets the decorative theme. Handwritten place cards showcase decorative calligraphy and are tied with silk or velvet ribbon.

- Feature seating areas These are becoming really popular, with chill-out areas and sofas fast becoming the new top table.

- Big installations to create an impact Many couples are choosing to spend their budget carefully, thinking about ways to create real wow factor with a key feature area or installation, possibly scaling back on other items. Think about choosing simple table décor and instead spending out on a hanging floral chandelier or floating table centrepiece. Opt for simple lanterns to line your aisle paving the way to a large floral backdrop or arch. Cake tables, entrances, gates and doorways are other areas in which to make a real statement.

- Modern rustic vs classical elegance Rustic weddings are becoming more refined and elegant – think handdyed silk runners and brass candlesticks rather than jam jars. Understated, classically elegant themes are currently trending, as more couples move away from rustic styling.

- Acrylic accents and perspex Acrylic signage will replace the current trends for blackboards. Elegant and contemporary acrylic can be used in many ways as a decorative theme from stationery, to place cards, table plans and chairs.

- Don't forget about the ceremony! Weddings are the time to create a lasting impression with guests, so go to town with your décor at the ceremony which kick starts the day. Choose items that can be reused for your reception if your budget is tight.
---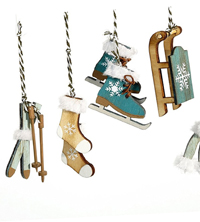 Deck the halls…
Q. Please can you give me decorative ideas for our Christmas-themed day?
A. Kelly Neno says: Christmas is a wonderful time of year for a wedding planner creating a festive celebration. Seasonal props can look magical, think church candles, tea lights, sparklers and atmospheric LED lighting. A wooden stepladder can display ornaments and signage including 'Just Married' plaques, photographs of the happy couple, large LOVE letters and jam jars filled with mistletoe and berries for a festive feel. A wedding arch or trellis styled as a backdrop looks romantic filled with foliage and decorated with mixed red berries, mistletoe and plenty of glitter. A sweetie cart draped with white voile and fairylights displaying traditional jars of old fashioned sweets can create the feel of a Santa's grotto.

A beautiful white Manzanita tree makes a wonderful table display and can be dressed with lots of hanging sparkly beads, tea lights, baubles and glitter-dipped pinecones. A mini decorated Christmas tree or a white lantern holding a candle makes another great centerpiece idea and adding lots of green foliage to the tables helps create that festive look. If you're trying to achieve a shabby chic feel, use wooden centerpiece displays such as bark slices with candles set inside or simple glass vases or bowls filled with water beads or fairy lights all sat on a sequined table runner.

A festive table plan idea can be a large mirror topped with foliage and berries with the seating details written in white, finished with a touch of snow spray or glitter spray. A Christmas tree also makes a great table plan with guest's names embossed onto pinecones or baubles.

Chair covers decorated with sprayed pinecones, baubles or ribbons and bows in plush fabrics and rich Christmas colours look great and add detail to the room as a whole, as do faux fur throws used as chair hoods with scatter cushions to match.
---
Finishing touches
Q. We've booked our wedding ceremony and reception to take place in the same venue all day so it should be pretty straightforward and stress-free. Are there any last-minute details that we need to consider?
A. Jodie Rogers says: Hosting your special day in one place eliminates a lot of stress enabling you to relax and enjoy every moment of it. Holding it in a hotel like The Grosvenor Hotel in Torquay means your guests can check in, chill out and there isn't far to travel at the end of the night! Remembering these few pointers will help it run seamlessly:

- Your guests won't always remember what they've ordered so have the menu written on the reverse of their name card, especially if it isn't a set menu.

- With certain meat like beef, make sure you've asked your guests how they like it cooked and inform the kitchen to avoid any awkward situations on the day.

- Invite your best man, woman or maid-of-honour to your final run through meeting with the venue – it's great to put faces to names and it will mean they know exactly what is going on and can help.

- Our biggest tip to our couples is to relax and enjoy every moment of the day because it goes by so fast. Savour every moment, and don't over think things. It's your day and your loved ones will be happy being there with you.
---
Contact our experts...

Elle Winsor Grime
Inspire Hire

Jodie Rogers
The Richardson Grosvenor Hotel Torquay

Kelly Neno
Come2Gether Weddings & Events
---